Summer Son
---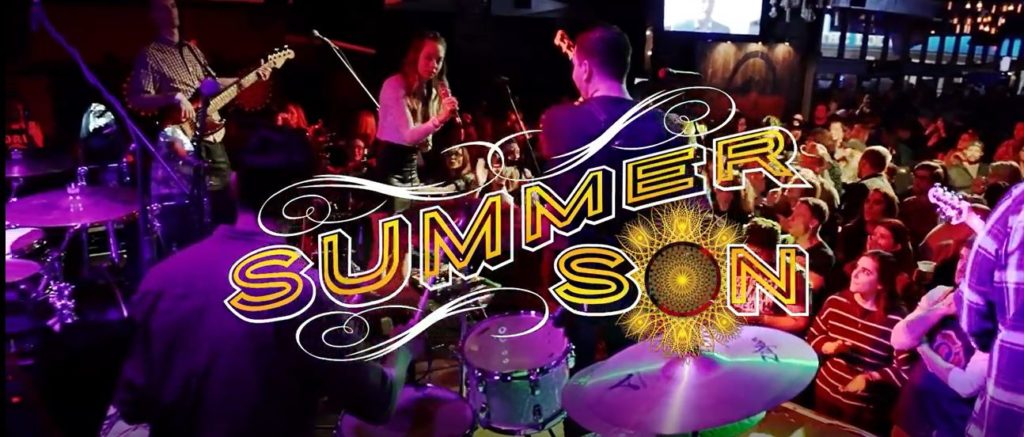 Date/Time
Date(s) - 05/11/2019 - 05/12/2019
9:00 pm - 12:00 am
Location
Potters Place
Categories
Pass The Shine!!! – This High-Energy Country/Folk/Electro-Bluegrass Band brings the party in true Nashville Fashion each and every time! Summer Son features outstanding musicians from every corner of the country–from Pennsylvania to Hawaii, and Austin TX to Iowa and Chicago. With strong vocals, harmonizing backups, face-melting guitar solos, and smoking fiddle & banjo licks, they have gained overwhelming attention quickly and LOVE IT!!!
The band began in July of 2014 in the Western Suburbs of Chicago and has garnered a considerable following in less than a year. They have covered a lot of ground, playing not only in the Chicagoland area, but also Michigan, Wisconsin, Pennsylvania, Iowa, Indiana, even Key West Florida and the heart of Country Music itself, Nashville. All of the hard work and travelling has paid off with opportunities to play great shows and festivals like Country Thunder, The Long Grove Strawberry Festival, The Forest Park Music Fest, Palatine's Hometown Fest & Street Fest, as well as a feature spot in Key West's world-renowned Fantasy Festival.
Promoting is taken seriously for each and every show, and the formula has proven to be successful. Every performance that Summer Son has played has been met with an immediate request for return shows from the venue–sometimes even right after sound check! Join the Fun and become a SonShiner today!