3rd Annual Potter's Fest W/ Trippin Billies & Summer Son
---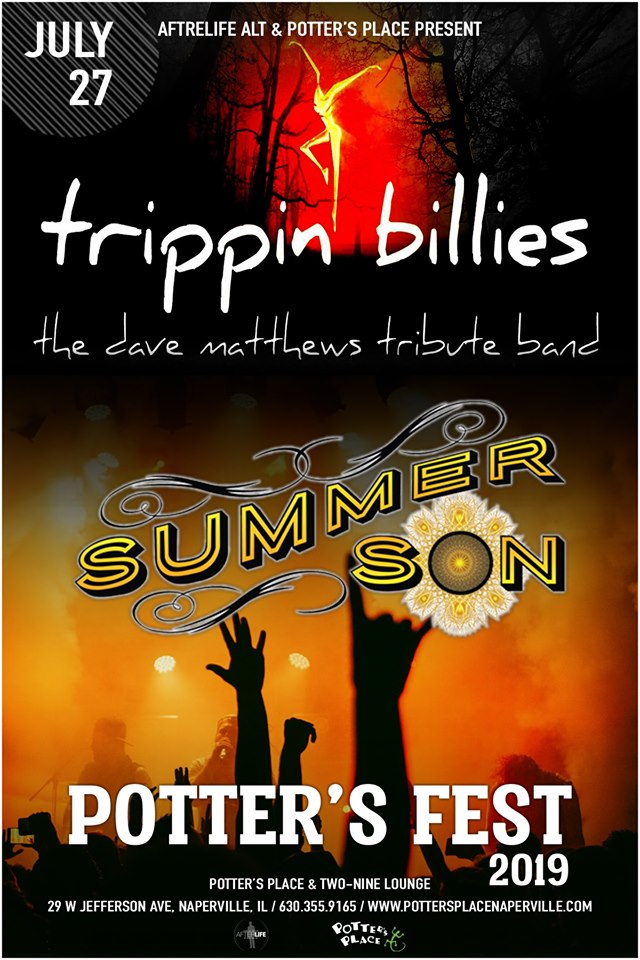 Date/Time
Date(s) - 07/27/2019
5:00 pm - 11:59 pm
Location
Potters Place
Categories
"The 3rd Annual Potter's Fest "
The last three years have been a huge hit for Potter's fest and we are back for a third year better than ever! We changed upon the music this year as well as made our seating first come first serve! Shout out to our new Sponsors Sam Adams & Redbull! We are excited to have a blast with everyone again this year! Now to music ….
TICKETS: https://potters-place.ticketleap.com/the-3rd-annual-potters-fest-ft-trippin-billies–summer-son/
Trippin Billies: – A Dave Matthews Band Tribute Show
Biography
Bringing fans the music of The Dave Matthews Band for close to twenty years, Trippin' Billies has become the gold standard for tribute bands. Based out of Chicago, the Billies have toured extensively throughout the U.S. performing at many of the same theaters Dave himself once graced.
Comprised of some of the best musicians in Chicago, (WXRT) one need not be a diehard DMB fan to enjoy a show. The high-energy performance and caliber of musicianship will have you singing along by the second chorus. But if you are a fan of the Dave Matthews band, don't walk run to see this band. Relix magazine has named them top five tributes in the country for good reason, come find out why.
Easily earning the distinction of the nations permier Dave Matthews tribute act, Trippin Billies astounds audiences. With a cast that literally reads like a super group of Chicago musicians, Trippin Billies frequently sells tickets into the thousands.
Summer Son:
Pass The Shine!!! – This High-Energy Country/Folk/Electro-Bluegrass Band brings the party in true Nashville Fashion each and every time! Summer Son features outstanding musicians from every corner of the country–from Pennsylvania to Hawaii, and Austin TX to Iowa and Chicago. With strong vocals, harmonizing backups, face-melting guitar solos, and smoking fiddle & banjo licks, they have gained overwhelming attention quickly and LOVE IT!!!
The band began in July of 2014 in the Western Suburbs of Chicago and has garnered a considerable following in less than a year. They have covered a lot of ground, playing not only in the Chicagoland area, but also Michigan, Wisconsin, Pennsylvania, Iowa, Indiana, even Key West Florida and the heart of Country Music itself, Nashville. All of the hard work and travelling has paid off with opportunities to play great shows and festivals like Country Thunder, The Long Grove Strawberry Festival, The Forest Park Music Fest, Palatine's Hometown Fest & Street Fest, as well as a feature spot in Key West's world-renowned Fantasy Festival.
Promoting is taken seriously for each and every show, and the formula has proven to be successful. Every performance that Summer Son has played has been met with an immediate request for return shows from the venue–sometimes even right after sound check! Join the Fun and become a SonShiner today!